Experience the synergistic magic of these two Seattle virtuosos when they join forces for our July 15 concert. Marco de Carvalho and Marina Albero combine highly individualistic styles that are grounded in their earlier years in Brazil, Spain, and Cuba. They'll be presenting both original and standard compositions with guitar, piano, and vocals.
Originally from Rio de Janeiro, Marco de Carvalho began playing guitar when he was 14, and has been a performer, composer, and arranger for over 30 years. Jazz e-zine All About Jazz has called Marco's playing "…cliché-free, non-flamboyant, and mature…His compositions and arrangements…[are] suffused with the melodic tropical sensuousness so characteristic of his native country." Marco has performed at some of Seattle's most popular music venues, including Jazz Alley, Triple Door, Benaroya Hall, Ballard Jazz Festival, Earshot Jazz, and Teatro Zinzanni.
Click this audio player to hear excerpts of three tracks from the first of Marco's CDs, Paisagens: "Parati" (Carvalho), "Overjoyed" (Stevie Wonder), and "Dolphin" (Carvalho).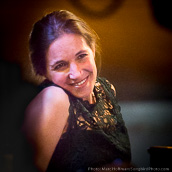 Pianist Marina Albero is known for the richness, depth, and dynamism of the music she plays. What's more, she moves skillfully and fluidly across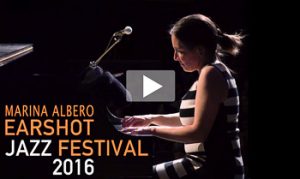 genres, from jazz, flamenco, and son, to early music, classical, blues, and her own improvisations. She has performed and recorded with a host of international musicians, including L'Arpeggiata, Chano Dominguez, Glen Velez, and Carlos Saura, as well as local musicians Adriana Giordano, Hans Teuber, and Chuck Deardorf. She has been a featured performer at Teatro Zinzanni, and Bellevue Jazz Festival. Click the thumbnail on the right to watch a video of Marina performing at the 2016 Earshot Jazz Festival:
About Duvall House Concerts
We call it "kick-ass music in a laid-back setting," and that pretty much says it all. We want you to have the rare and wonderful experience of hearing great music in a relaxed home environment. Come visit us in the charming town of Duvall—just 40 minutes from Seattle— and enjoy the performance in the company of friendly people who appreciate fabulous music!
We provide light refreshments (you're welcome to bring food and beverage to share). There's a requested donation of $20, which goes directly to the musicians. Please bring children only if they can sit quietly during the performance—we love them, but we don't have a space where kids can be kids.
Why Are Reservations Required?
Our venue is small (30 seats), so reservations are required. We encourage you to Reserve Seats ASAP! We'll get right back to you with an email confirmation, including our address, directions, and additional details. You pay when you arrive. All we ask is that you let us know if you need to cancel.