PLEASE NOTE: Reservations are now FULL, but we usually get some cancellations closer to the day of the concert. We encourage you to sign up on our WAIT LIST. We'll let you know as soon as a spot opens up.
 
Do you dread sliding into those post-holiday doldrums? Arm yourself today—reserve your spot for an evening of sweet & soulful country blues with Johnson, Miller & Dermody at Duvall House Concerts, Saturday, January 19, at 7 pm. There's no better cure!
It's no wonder Johnson, Miller, and Dermody are local and regional favorites. All three are superb musicians who've been playing everything from country blues, bluegrass, rockabilly, jazz—and more—since they's babies. What's more, they've been playing together for decades, and they've got the musical chops and stagemanship to show for it.
With harmonica, mandolin, acoustic guitar, dobro, and voices that have been marinating in three lifetimes of soulful music-making, they deliver some tasty country blues that'll move your soul, shake your branches, and get you feelin' right again!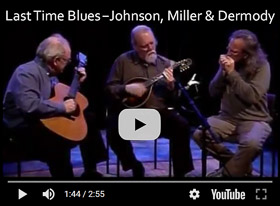 Click the video screenshot to hear these three bluesmen play "Last Time Blues." For more info , and to hear more samples, visit johnsonmilleranddermody.com.
 
Reservations are required. As our concerts fill quickly, we suggest you reserve your seats as soon as possible.


Linda Waterfall has Passed Away

We are sad to announce that Linda Waterfall passed away in Seattle, Washington, on January 8, 2019, following a long illness. Linda left this world encircled by the love of people close to her. She was a dear friend to us, and performed at our very first house concert, back in 2015. Read more…
About Duvall House Concerts
We call it "kick-ass music in a laid-back setting," and that pretty much says it all. We want you to have the rare and wonderful experience of hearing great music in a relaxed home environment. Come visit us in the charming town of Duvall—just 40 minutes from Seattle— and enjoy the performance in the company of friendly people who appreciate fabulous music!
We provide light refreshments (you're welcome to bring food and beverage to share). There's a requested donation of $25, which goes directly to the musicians. Please bring children only if they can sit quietly during the performance—we love them, but we don't have a space where kids can be kids.
Why Are Reservations Required?
Our venue is small (30 seats), so reservations are required. We encourage you to Reserve Seats ASAP! We'll get right back to you with an email confirmation, including our address, directions, and additional details. You pay when you arrive. All we ask is that you let us know if you need to cancel.